FRIENDSHIP FIRE COMPANY NO. 1
City of Woodbury
Pictures with Santa and His Fire truck
On December 3rd Santa Claus will be visiting the firehouse 29 Delaware Street to take pictures with the children and pets. Santa will be here 11:00AM until 3:00PM. Packages start at $5.00. For more information contact the firehouse (856) 845 0066. This is open to the public!!!!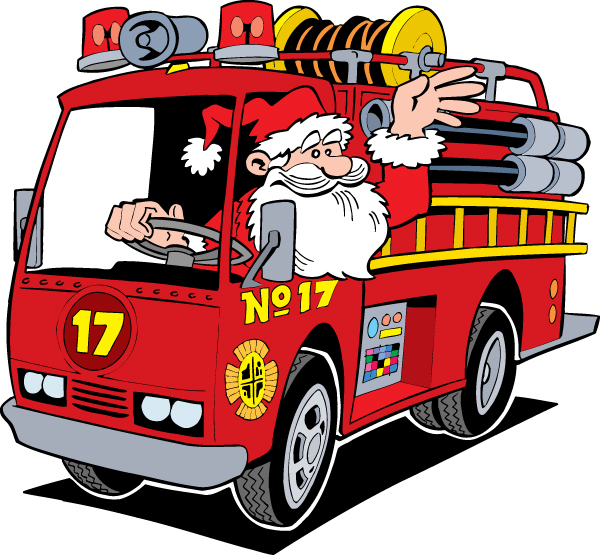 Santa is Coming to the City!!!
Look out for Santa coming down your Street on December 17th 2016, Santa will be starting his tour of the City at approx. 10:00AM in the morning. Want a gift dropped off to your house by Santa Claus. All you have to do is stop by the firehouse Monday Thru Friday 7:30AM to 4:00PM and drop off a wrapped present for your child, $20.00 for two children, after two $5.00 additional per child. Santa will personally stop by the address and hand out the gift to the children. Cash, Checks and also Credit Cards are accepted as payment. We thank the Citizens of Woodbury in advance for the continuous support throughout the years with this event, each year we strive to make it better. For more information feel free to Contact the firehouse (856) 845 0066.
Happy Ending for Two Lost Dogs and its Owners
Engine 511's crew was out at 0900 for a fire inspection when approached by a couple asking if we had seen their dogs, they went missing approx 2200 hours the night before. After a brief canvas of the neighborhood the crew received information from Deptford Capt Fiddler 9202 that the dogs were actually found last night and safe at the home of Rebecca Mangeri. The engine company notified the owners and went to partake in the reunion.
Large Fire in the City Hampered by Winds and PSEG Response
The 500th call of 2016 milestone was reached on Thanksgiving night. The road to 500 calls involved a very busy week for city firefighters, with 32 calls in the last week alone. While many of these incidents could warrant their own story, the most notable occurred in the early morning hours on Monday 11/21. At 0341 our station was alerted to the 700 block of Mehorter BLVD for a report of a dwelling with fire throughout. Chief 501 arrived with exposures to 2 additional dwellings and requested the 2nd alarm be struck. City firefighters brought a full district response with Engines 511 & 513, Ladder 516, Utilities 515 & 517, CAR-5, Chief 500, and FM-5. 37 mph winds with gusts up to 47 mph made the incident more complicated as live power lines were blown around on the fireground. Area brush trucks were used to patrol the neighborhood for embers. There were 7 victims transported by Gloucester County EMS to area hospitals. The fire and exposures were confined and extinguished with 3 ladder pipe master streams, 3 2-1/2 inch handlines, and 6 1-3/4 handlines in operation. Mutual aid on scene was provided by Squad 2211, Engines 613, 632, 1311, Ladders 926 and 666, Rescues 1518 & 2118, Brush Trucks 815 & 925, and Utility 947. The city fire station was manned by crews from Engines 811 & 1033 and Ladder 936 for several hours during the incident. We thank our area fire service community for their ongoing efforts to protect the lives and property of every citizen and for backing us in our times of need. We look forward to finishing out the year strong.
Busy Week Leading to Thanksgiving
Engine 511 has been keeping busy, running 6 calls in the last 24 hours. This includes 2 separate dwelling fires in surrounding communities. Yesterday afternoon Engine 511 was first due to the 200 block of Monmouth CT in West Deptford and stretched approx 1200 ft of attack lines including three 2-1/2 lines three 1-3/4 lines. (Picture attached) Today in the afternoon Engine 511 was special called to Paulsboro to act as the Rapid Intervention Team (RIT) while companies operated. The RIT is a special resource intended only to assist downed firefighters. 511's crew stood by for approx an hour without being activated. Between fires, 511's runs in the City included a standby for a bomb scare, assisting EMS on a medical run, an appliance producing a burning smell within the high school, and an unfounded report of smoke from a local business rooftop.
---
Join today Ages 16 and Up.
1. Go to File Library tab on left side
2. Select application
3. Then print out the application
4. Return completed to 29 Delaware Street Woodbury, NJ
Training is FREE!
Become a
Firefighter 18 & Up years of Age.
Jr. Firefighter 16 to 18 years of Age.
Auxiliary Member 18 & Up years of Age.
All Men and Women needed!
Questions can be sent to Membership@FFC51.com or call Monday through Friday 8:00 AM to 4:00 PM.
You can also stop by 29 Delaware Street Woodbury every 2 or 4 Tuesday of the month from 6:30 PM to 7:00PM for an application or any questions.
Join our Family